Reading Time:
8
minutes
The pandemic has impacted every sector, and the education industry is no exception. Today people prefer to study online from anywhere and anytime rather than visiting schools, colleges, and universities. 
According to Statista, by 2026 the total education market is going to reach $350 billion. No doubt, the education market is becoming a leading source of income and a profitable business module. 
Education apps are going to support students and teachers forever, that is why it is one of the fastest-growing industries. So, if you're thinking of developing an education app, this post is for you. 
This post will help you know about education app development types, processes, costs, and more.
Let's get started.
How Are Modern Education Apps Transforming Traditional Learning in 2022?
If we compare our present with the past, there is a huge improvement in today's learning system. There is a huge importance and benefits of educational apps in today's learning system. Some of these are:
With an education app, students can now access all the classes and courses they need without any geographical boundaries and time constraints. 

With today's learning system, students don't need to be limited as there are plenty of learning resources stored in these apps.

Students can receive more incentives using these educational apps for their studies. Some features like gamification and social media integration help students have more fun and engage in healthy competition with other students. Online study-based games like puzzles and quizzes help students to share their live scores, play with other students, help them to take part more often. 

There are certain times when students fall sick, and miss their classes. With education apps, all the lectures, notes, and study material are stored in their accounts which can be watched anytime anywhere. 
Types of Education Apps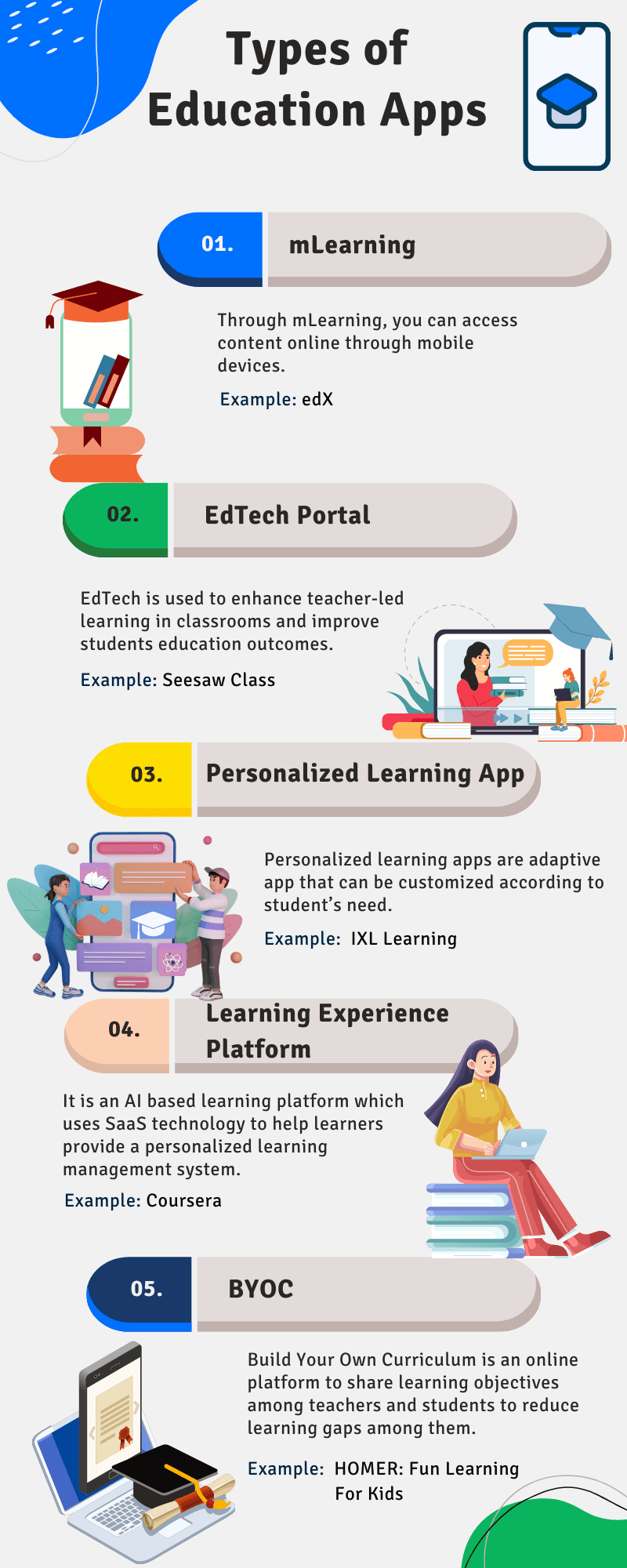 There are different types of educational apps as mentioned below:
1) mLearning
mLearning stands for mobile learning. It is a new method of accessing content online through mobile devices. One good thing about mLearning is that learners can learn from their mobiles anywhere, any time. 
Example of mLearning app: edX
edX is an American online course provider developed by Harvard and MIT. The app deals in university courses, online lectures, etc. It was founded in May 2012 and has more than 50L+ downloads.
2) EdTech Portal
Earlier, classrooms used to have bulky desktops to take online classes. But in the present scenario, things have changed. Now, students are provided with an edtech portal where they can connect with their laptops and tablets and get access to all courses, study materials, lectures, and online classes. 
Example of Edtech portal are: Seesaw Class
Seesaw Class is a student-driven digital portfolio that inspires students to do their best. The app was developed in 2013 and has an active download of 10L+ downloads. 
3) Personalized Learning App
A personalized learning app is a combination of education programs, learning experiences, instructional methods and procedures planned to handle student-specific learning needs. To create a personalized learning app, there should be proper designing of UI, graphics, and development process, or you can hire an e-learning app development company for better customization. 
An example of personalized learning app is: IXL Learning
IXL Learning is the world's best subscription-based learning site, where you can customize your courses according to your requirements. It has more than 10L+ downloads.  
4) Learning Experience Platform (LXP)
A learning experience platform is an AI peer learning experience platform delivered using SaaS technology. This platform uses Artificial Intelligence to make learning modules comply with individual needs. 
Some examples of learning experience platforms are: Udemy
Udemy is an online course provider aimed for professional adults and students. It was founded in 2010 and has 1Cr+ active downloads in Play Store. 
5) Learning Management System (LMS)
These types of apps provide content delivery and management systems to trainers and learners with rich environments for hassle-free and result-oriented training. 
An example of a learning management system is:  Coursera 
Coursera is an online learning platform that provides different programming languages from different university experts. It has more than 1Cr+ downloads in Play Store. 
6) BYOC
A BYOC learning app brings profitable business to enterprises by adding core values to the learner's education. It uses an innovative way of e-learning, where learners get access to a collective and complete curriculum. 
Example of BYOC learning app are: HOMER: Fun Learning For Kids
HOMER is an online early learning platform for ages 2-8 years and the content is customized according to your child interest. It has more than 10L+ downloads in Play Store. 
Features of Online Education Apps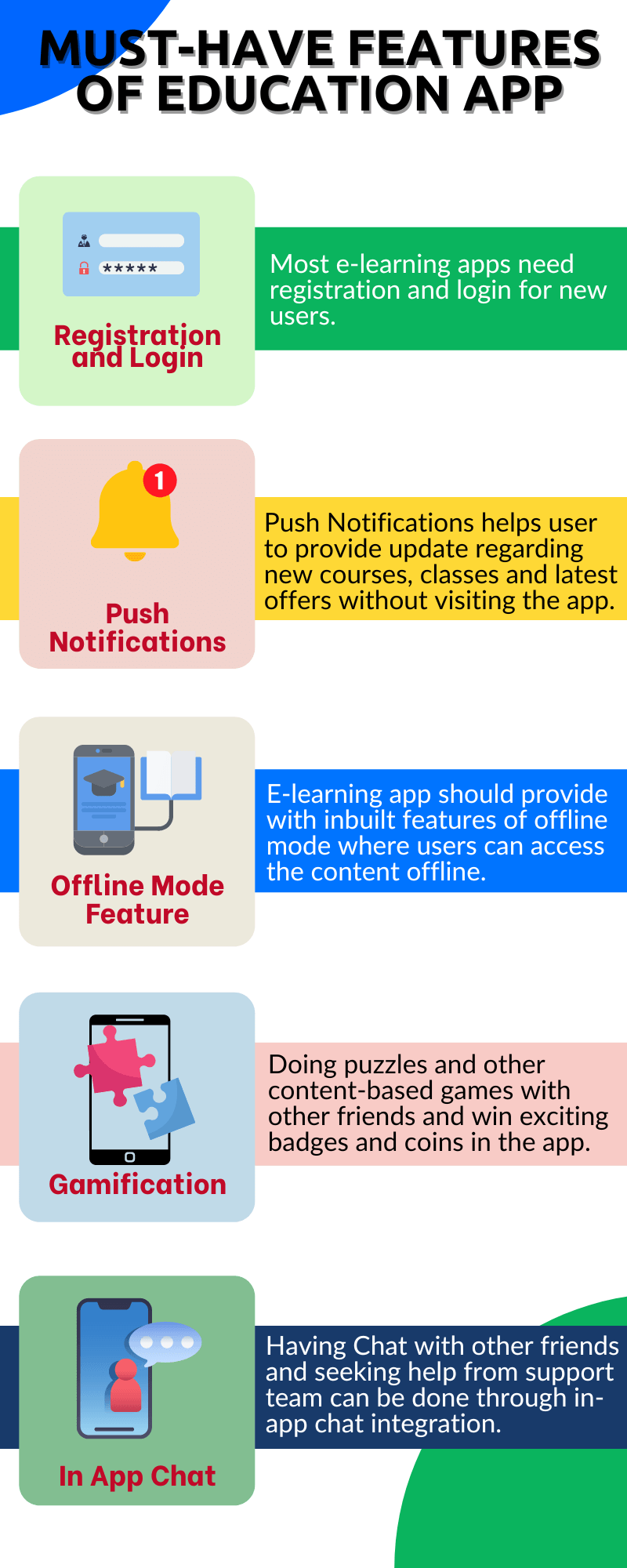 Using online learning apps can provide you with plenty of features. Some of them are mentioned below:
One of the important things that you should implement in the education app development process is user's registration and login. This is one of the essential elements where users can put their emails/phone numbers to get registered through the app. 
User account and profile is a first dashboard where users can feed basic information related to their profile like name, date of birth, mobile number, gender, and a profile photo to ensure that the account belongs to that user.
In an e-learning app, you will see a course catalog where the course name and all their chapters will be mentioned in the front page to ensure that readers and students don't face issues in finding their content. 
The search module in an e-learning app helps the user to find the content or the specific content that the user wants to go to. With the help of search options, any content can be fetched easily.
There are many edtech apps that provide premium courses for their students. In this scenario, it is important that all the e-learning apps should implement a payment gateway for secure transaction while the education app development process.  
PayPal, Square, and Braintree is some good example of payment gateway available in the market. 
Some e-learning apps provide premium subscriptions for their loyal customers. This helps them to manage their subscription and helps to know whether the customers are happy with their product or not. 
The process starts when any customers start subscribing to the product and services, and it ends when customers cancel their subscription. 
In the modern app, there are many assignments that help students to know about the topic more deeply. Through assignments, they can revise their topic twice. 
There are many e-learning apps that are using the PWA version to provide extra features to their customers. 
Self assessment is a kind of assignment that is given to students to check their learning after completing a full module or course. Self Assessment helps learners to check whether they have the right learning or not. 
In today's modern world, all the apps are coming with Push Notifications. Through push notifications, e-learning companies can send notifications about any updates, new courses, any improvement or changes in the app, offers, etc. This helps businesses and customers to understand each other's requirements. 
This is one of the coolest features where a student can talk to other students about any course, assignment, or problem they are facing. Apart from that, they can also connect with the support team if they face any technical issue and need support. 
Gamification is a reward and badge recognition given to students for achieving certain achievements or scoring high scores while playing games with friends or the community. 
Students take more active participation in regard to achieving rewards and badges. 
 In a business, it is important for you to know whether the services provided by you are satisfying your customers. Through feedback options, customers can share both positive and negative feedback according to their experience with your product and services you are providing them. 
Steps to Create an Educational App
1) App Ideas
Before you plan to develop an e-learning app, it is important to think about your app. What are the important things that you are going to implement in your app. Think about app ideas and select the once which looks relevant and suits best for your business. 
In your app ideas, you can think about your app design, targeted audience, choosing the right platform. Thinking of all these things at the beginning can help you with developing a world-class app. 
2) Market Research
After you have completed with your app ideas, you can directly start with market research to analyze what is going in the market. Market research is important because by doing research you will be able to know about the latest market trends, what  can be profitable and what not, based on that you can ask your edtech app development company to develop your app. 
3) Competitor Analysis
Competitor analysis is one of the important factors in the app development process. In every niche, there is a competitor, and you must analyze them what all activities they are performing to make their business grow. 
Based on that, you can do the same and look at their mistakes, and you should not repeat the same mistake. 
4) Choose a Reliable App Development Partner
After you have completed with your market research and competitor analysis, it's time to choose the best education app development company to develop your e-learning app. 
5) Launch The App
After the development process is completed, now it's time to finally launch your app. Look for bugs and if there is any error, fix it out and get the app published in Play Store.
How Can Businesses Earn From an Educational Platform?
1) Advertisement 
Advertising is one of the most common ways to monetize an educational app. With most of the businesses looking to build a brand name, giving them visibility on your ed-tech app screen will make for constant money inflow. 
You can take help from affiliate marketing. When you open an app, the screen pop-ups and the ads automatically appears on the screen. 
2) Paid App Versions
A custom app development company can develop a custom app with some additional features that can be provided to the customers by paying an additional cost.
3) In-App Purchases 
With the help of this model, user can use educational app for free. However, if there is any additional features, you need to pay additional for it. 
Language learning app is a good example of in-app purchase. 
4) Referral Program
Referral marketing can quickly increase the reach of an educational app and develop a  huge customer base. It allows the user to promote an e-learning app online without adding any additional marketing cost.
5) Online Stores 
Another way to monetize your educational app is through selling your products and services through online stores. 
Educators and tutors can make online lessons, different courses for sale online. Relevant items like books, video, audiobook all these can be purchased through online stores in an educational app.
How Much Does it Cost To Create an Educational App?
The cost of developing an educational app depends upon various factors. Let us discuss the cost.
If you want to develop a simple app, the estimated cost will be between $40,000-$60,000 and the time to develop the app will vary from 2-3months. 
Developing a basic app with some basic features will cost you between $61,000-$1,50,000 and the estimated development time vary from 3-6 months. 
Developing a complex app with multi-feature will cost you above $3,00,000 and the estimated time to develop these apps varies from 9-12 months. 
If we talk about developing an app process-wise, the app development cost is mentioned below:
| | |
| --- | --- |
| Discovery | $5000 |
| App Design  | $5000-$12,000 |
| Development  | $35,000-$1,00,000 |
| Testing | $10,000-$30,000 |
| Deployment | $10,000-$50,000 |
| Support & Maintenance | $5000-$10,000 |
How Can We Help You?
Want a full-fledged e-learning app development with us? If yes, connect with AppsChopper, one of the leading mobile app development company in the US delivering services from last 11 years. With using emerging technology, our experts develop your app with implementing full-fledge features in it. We help to transform your business dream into reality. 
Conclusion 
Hopefully, this guide has helped you in knowing the complete process of education app development. 
So, if you are a business owner and thinking of investing in e-learning sector, you can connect with education app development company to develop your app with us. 
If you have any feedback, suggestions, or review, you can connect with an app development company and make further communication with them.